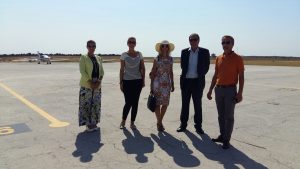 Egle Vaitkeviciute, CEO at BAA Training, visit Atlântica University Higher Institution
On 19th Atlântica University Higher Institution received the visit of Egle Vaitkeviciute, CEO at BAA Training, and Edita Bareike, Aviation training Ab Initio. It was a very good meeting to define strategies to develop our partnership and agreement.
BAA Training and Atlântica presents one more way to acquire a Bachelor's degree in aviation and a commercial pilot licence at the same time. A Bachelor's in Aeronautical Engineering and Air Transport Pilot Licence (ATPL (A) frozen) study programme is offered by BAA Training together with Atlântica University.  This programme is a great option for those who aspire to become well-trained aviation professionals.
This study programme is valuable since a dual degree opens up numerous doors to the competitive and dynamic aviation industry which offers endless career opportunities. Moreover, this time saving option is a possibility to take aeronautical engineering theory lessons online.
BAA Training Aviation Academy is European standard aviation training center, where the experience of tailored training solutions is wrapped in the personal care. BAA Training headquarters is in Lithuania and counts more than 20 years of experience in aviation training, while its heritage reaches 1938 – the establishment of the Lithuanian airlines training department. In addition to training base in headquarters it is able to offer training solutions in various Europe, CIS and Asia locations.
Atlântica was born in 1996 as an institution of public interest, reaching out  to be a target reference to the creation, transmission and dissemination of knowledge, science and technology through the articulation of study, teaching, research and experimental development. In 2014, the Company Carbures acquires 87% of the share capital of the EIA,SA with the purpose in contributing to a change in higher education in Portugal, by fostering the link between industry – university – research, achieved through the creation of a technological pole development of the area of engineering materials and science of aeronautical engineering – its core business.
This collaboration will allow linking knowledge between the Company and the University, in a two-way relationship, to train graduates, PhD teachers , future professionals, with  useful business skills, but also will allow the university institution to support the company in research and technological development projects.
Nowadays Atlântica University Higher Institution aims to distinguish itself and be a valuable academic progress instrument in Portugal.